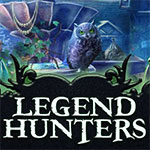 Legend Hunters Game: People have different interests, that is for sure. While someone like to keep their feet on the ground, doing practical things, other people choose 'dreaming' as their profession. And there is no rule who is going to be more successful in his/her job. As long as they do their job right, being completely devoted to that dedication. That's why we know about the ventures and the successes of today's great doctors but also we know about the magnificent contemporary artists who fill our days with creativity and beauty.
Amy and Eric have interesting call as well. Actually, their call is more than interesting. It is so extraordinary and fascinating because they do something that only few people in the world could imagine doing. Those two are known as legend hunters which means that they try to solve certain mysteries and find out if those odd legends are true, or they are just legends. Today, Amy and Eric together with their team, are in the abandoned house that belonged to the late banker Ryan. The legend says that every year on his birthday, Ryan's ghost appears in the house, so the legend hunters like to find out if that is true. Enjoy and have fun in playing Legend Hunters Game.
Also make sure to check out The Legend of Bellshill Game, you may enjoy playing it.