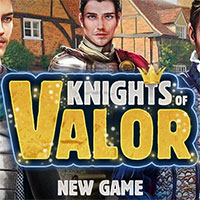 Knights of Valor Game: Alfan, Emeric and Colin are brave men granted by an honorary title of knighthood by the king for service of the Kingdom of Valor. They are always prepared to guard their Kingdom. They are very well trained but also very smart people that usually observed the things strategic. And doing their best to keep the Kingdom safe and defend it from its offenders. Now, they have been sent on a secret mission.
For the first time, the Kingdom is faced with possible treachery. They belong to the last remaining group of loyalists, and have been commanded to go to the king in light of the imminent problem. The three knights are in the castle of Prince Walter while he and his men are out. The king, Walter's father, ordered them to investigate the scene. And to seek evidence of an alleged rebellion that made his son turn against him. The king wants to ensure that this conspiracy is a lie because he does not want to believe that his son will go behind his back and try to take over the crown. This is the starting point of our adventure. Now we must find out the truth. You can play Knights of Valor game on all devices. So enjoy and have fun.
Also make sure to check Empire of Shadows Game, you may enjoy playing it.