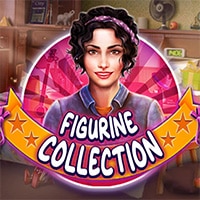 Figurine Collection Game: After some period of living in the old house, Olivia and her family decided that it is time to move into a new house. The old house wasn't that bad but they decided that it would be nice if they change the place of living. Make a new beginning and refresh their whole lives. However, all of that doesn't happen all of a sudden. First, it takes time to find a new house that will suit your needs. Then to buy that house, and finally, to move into that house. And probably that is the hardest part of the whole process.
You had everything that you needed in your old house and now. It is time to pack all those things in numerous boxes and cases. Well, that's a lot of work! All the big things like furniture and white goods, and after that, all those numerous tiny things. The ones that are used for something and the ones that are just decorations, the ones that you kept for sentimental reasons… Olivia has only a few minutes left to move out of her house, together with her family, and move into the new house. She has already packed all the stuff, except those few objects that need to be packed yet. But most important of all is to find her collection of figurines. You can play Figurine Collection game on all devices. So enjoy and have fun.
Also make sure to check Household Movers Game and Collector of Old Items Game. You may enjoy playing them.