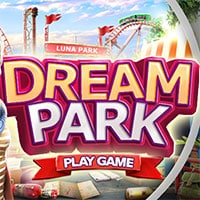 Dream Park. Amusement parks have always been an excellent way to have fun. And we can't be sure who loves them more, the kids or the adults since there are also so many amusement parks whose target groups are grownups and they are always full. Not to mention the joy on the kids faces when they try the merry-go-round for the first time or take a ride on some smaller rollercoaster.
Judith and Ralph are leading a group that has come to visit the biggest amusement park in the land. Since their job is in a amusement park, those two are always exited to walk around this place invented just for fun. This park is named the 'Dream Park' and actually it is the place with one of the most dangerous roller coasters, something that attracts numerous people to come and enjoy the unique ride. This is the ideal park for the adrenaline addicts because it provides them the adequate amount of excitement and joy, but also it is great for all enthusiasts that like to experience something new.
The group has arrived early this morning in the park and they have a whole day for enjoying in this wonderful amusement park. The party will start right away and we are invited too. We could also see all those interesting roller coasters and all the other amusements offered by the amazing Dream Park. Judith and Ralph will be our leaders too, so there is no chance that we will miss a spot.