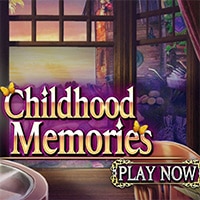 Childhood Memories Game: Maybe we have left our childhood behind, but we still have our childhood memories, right? Those memories are usually good memories, "colored in pink" and remind us of moments of happiness and something beautiful. Some of those memories are related to particular events and persons. But sometimes it is about feelings, smells or tastes – different sensations related to the general feeling of security and calmness. And that is expected because in those moments our worries were completely different from those that we have today…
In this game: Claire and her brother Richard also have some precious childhood memories. Their best memories are related to a cabin, located by the lake. Claire and Richard have now arrived at their family cabin by the lake. They haven't been there since they were very little and they thought it would be a good idea to take a trip down memory lane and relive their childhood at the lake cabin. Let's see together what is hidden in this family cabin. But also what is hidden in Claire and Richard's memories. You can play this game on all devices. So enjoy and have fun in playing Childhood Memories Game.
Also make sure to check out Buried Memories Game, you may enjoy playing it.