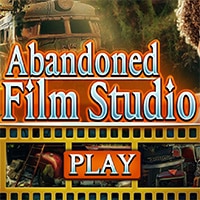 Abandoned Film Studio Game: Ruth and Raymond are huge fans of the film art. Everything in their lives is related to movies. They love the artists and know all about their biographies. They know all the details about their favorite movies, they know where is something filmed… That's why they were really excited when they found out that there is one big abandoned film studio in the south part of their country. Very soon, Ruth and Raymond find out which movies were filmed there and this is something that challenges them even more – to visit the studio and see what is hiding there.
The two film enthusiasts came in the abandoned film studio. They don't know what is expecting them there. But they hope that they will find some objects that are left from the film sessions of their favorite movies. They are already here, in the film studio, looking for some interesting objects from the movies. Ruth and Raymond know every frame of their favorite movies so it will be very easy for them to figure out if something was a part of them. You can play this game on all devices. So enjoy and have fun.
Also make sure to check Abandoned Throne Game, you may enjoy playing it.