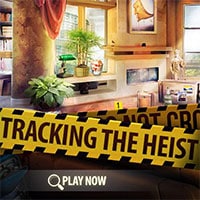 Tracking the Heist. Being lawyer is one the most influential profession in the world. Lives of lots of people depend on their professionalism or intelligence, the possibility to defend someones honor and prove that is innocence is something that a good lawyer can only manage. And the best advocates are capable of twisting the truth on their behalf if they want. They know the black spots of the laws and use them the best way.
Imagine what kind of documents lawyers have on any case? They are an easy target for criminals. Something like that happened to a person important for today game. Even lawyers who are often the given hand for people in a need, need to be helped.
Megan is a private detective who is hired from this advocate. Very important documents have been stolen from this lawyer, and he needs them for a very important trial. He promises that he can prove that one of the biggest criminals in the country is guilty. Megan wants to find out who has stolen the documents. She will make it if you our dear player put efforts and help her. We are sure you would do that! Have fun as an assistant of a great private detective.
Tracking the Heist is a free online hidden clues game on Hidden4Fun.