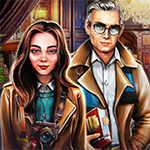 The Book Collector Game: When it comes to our favorite books and writers, we can never be sure if we have read everything from them. As fans of a certain author, we wish to know everything about him. But the truth is that this is simply impossible. We may know the published pieces of art but we could never know what hides the writer's computer for example. Or if there is some manuscript or even a whole collection of books that stays somewhere hidden.
And also about the published books. Some of our favorite authors lived many, many years ago. And during the years some of his books could be lost and stay unknown. However, there are people passionate enough and prepared to search for days, even years, in order to find a certain lost book. In The Book Collector Game: Lisa and Anthony are about to discover a lost collection from the genius David Brown, a collection that has been lost for a very long time. They get a warrant for searching the house that belongs to one of the biggest book collectors, mister Kevin. Lisa suspects that the very rare and valuable books of David Brown are hidden exactly here. Let's see what is it about. Enjoy and have fun in playing The Book Collector Game.
Also make sure to check out Book of Wonders Game and The Book Of Hidden Objects Game. You may enjoy playing them.