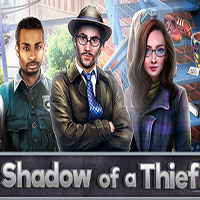 Shadow of a Thief. By definition, burglary is the 'unlawful entry to a structure and it does not always involve theft but may sometimes'. Break-ins are never fun, and may make our families and neighbors feel uneasy should one ever take place in our neighborhood. This game happens in a suburb known for frequent robberies.
This week, once again, a new burglary occurred in the neighborhood. Thomas, Charles and Sandra are the detectives who were given the robbery case in an apartment building. One of them is the lead investigator and the others are assigned as his assistants. They will start an investigation in a case of a wanted criminal responsible for theft and other things.
The owner of the apartment managed only to see the thief's shadow. The three detectives have committed themselves to finding the thief with the help of the evidence they will find and once and for all end up the break-ins in this suburb.This mystery game involves searching for clues, discovering evidence, talking to witnesses and solving the mystery. Are you ready? Enjoy!