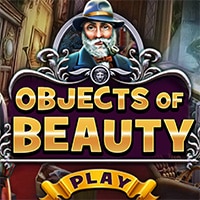 Objects of Beauty Game: Another challenge for the two detectives Dorothy and Paul. Our characters will face a challenging case at the museum. So let's go there together with them and see what has happened this night while the museum was closed and there wasn't anyone there. The two detectives Dorothy and Paul arrive at the city museum. The place where last night a serious robbery was prevented, thanks to the alarm system. Namely, a few thieves entered into the museum, willing to steal something from the precious collections that are exhibited there. But they were stopped in their intentions because of the alarm. However, we can't be sure that they didn't manage to steal something before the alarm was activated, and that's why the detectives are here.
Dorothy and Paul have a task in Objects of Beauty Game to check out if all the objects are in the museum. And find out the identity of the thieves. That means checking every article that is there. But also looking for some traces and pieces of evidence that will lead us to the criminals. You can play Objects of Beauty game on all devices. So enjoy and have fun.
Also make sure to check The Collectors Club Game, you may enjoy playing it.