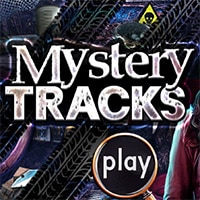 Mystery Tracks Game: Being rich and wealthy can be risky sometimes. Some people sweat and dedicate their lives to work to get to that money. While others like to choose the "easier way", wasting their time on criminal actions. They use different methods to extort money from the rich ones, kidnapping their close ones, inventing lies, and blackmailing them… Detective Shirley and the policeman Gary are working on a case in Mystery Tracks Game, that involves blackmailing and kidnapping a girl whose father, Jason, is very rich. The girl is underage and the kidnappers have taken her somewhere. With a following of the traces, Shirley and Gary found out that the girl could be hidden in one abandoned house.
They are now in front of the house in Mystery Tracks Game. Hoping that they will find out something more about the destiny of Jason's daughter. Let's check out together what is in the house. And let's hope that the girl will be there safe and in good condition. We will look for some pieces of evidence, together with Shirley and Garry. Maybe we will be the ones that will solve the whole case. You can play Mystery Tracks game on all devices. So enjoy and have fun.
Also make sure to check Lost Tracks Game, you may enjoy playing it.