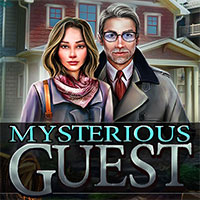 Mysterious Guest Game: The Jones's are a couple that has been together for many years. They are retired now and live together in their family house. However, their house has been robbed and all their valuable objects are missing. They have called the police so at the place of the crime scene are the detectives Laura and David. Both of them seemed best choice for this case because they have brought justice in many similar situations.
Laura and David have started their investigation this morning. They investigate everything related with the robbery, trying to find as many evidences as possible. At the moment they are talking with the Jonson's and their neighbors. From the conversations they realize that the Jonson's had a visitor few days ago. It was a mysterious guest, a supposed nephew of their relative that asked them if he could stay overnight in their house. They welcomed him as he was their close relative but it seems that this man had other intentions. The next morning Jonson's house was completely robbed. It seems that the thief worked during the night so he took everything! The Jonson's are really confused and worried so they are explaining all the details to the police, hoping that they will manage to catch the thief.
Laura and David are listening the details carefully and soon they will starts collecting the evidence. They hope that they will bring justice one more time and the Jonson's will feel safe again. You can play Mysterious Guest game on all devices. So enjoy and have fun.