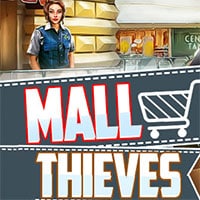 Mall Thieves. Shopping malls attract thieves. While frantic shoppers are filling malls and shopping center, quick-witted criminals are on the lookout for easy victims who are not being as vigilant as they ordinarily might. In this game, players track down crafty crooks in the city's shopping mall! You must carefully follow the clues while helping the manager of the mall and the police to put the thieves behind bars.
A group of thieves bulldozes the buyers in the local mall on daily basis and steal their personal belongings. Lisa is the chief manager at the shopping mall. She calls detective Donald and the police officer Karen together to track down the mall shoplifters and to restore confidence among buyers. Their mission is to keep them safe and protect them from thieves in future.
They need to identify the suspects who stole several items from the city mall. According to police, the suspects stole \"excessive amounts of items\" from the buyers on \"more than one occasion.\" Help them with the clues and stop the theft once and for all!