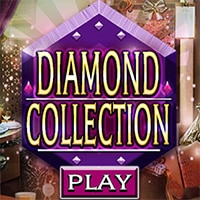 Diamond Collection Game: And while most of the people use the New Year's Eve for celebrating. There are some professions that simply don't allow that. We are talking about the on-duty medical personnel, the police officers, the people who work in the catering facilities. The performers that have gigs on the New Year's Eve and so on. Amanda is on a duty this New Year's Eve. She is actually happy about that because this night seems to be a perfect opportunity to solve one particular case. Namely, Amanda will use the euphoria related to this night, to find the collection of diamonds which is actually one of the most valuable collections in the world.
While the other people are celebrating, Amanda comes in the closed restaurant that belongs to the notorious mobster Brandon. She starts her search for the valuable diamond collection, believing that they might be found exactly here. Let's help Amanda finish her mission before someone enters into the restaurant. There is not supposed to be anyone but, who knows for sure?! You can play this game on all devices. So enjoy and have fun in playing Diamond Collection Game.
Also make sure to check out Lost Collection Game, you may enjoy playing it.