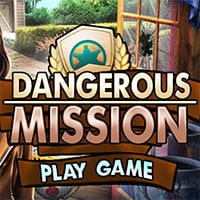 Dangerous Mission. Connie and Larry are both journalists by profession. They have been working as colleagues for a really long time. Since their profession is rather unpredictable and they don't know what could expect when they start the day, many times they face dangerous missions. They have to go through those missions and after that, the truth should be presented to the world.
Many times Connie and Larry decide to work incognito and get into the center of certain dangerous happenings. Now they have entered at the house of the judge Morris. They believe that the judge hides important evidences about one political case on purpose. The both journalists are ensured that he does that with a clear aim – to protect the politicians involved in that case.
Connie and Larry have entered into the house together with their colleagues while the judge is not at home. They like to explore the whole house and find out the evidences that are hidden somewhere. If they manage to find those documents, it would be a rather big scandal because it will include suspicious politicians and a corrupted judge. This would be one of the biggest news lately, and that's why those journalists have taken the risk to enter into someone's house and search around. Let's help them search the terrain and get to the wanted documents sooner, before the judge comes home.