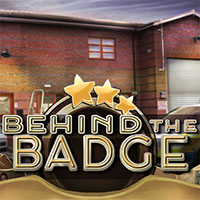 Behind the Badge. It's been almost one year since Steve has started working in the police office in his city. This was his greatest wish so he does his job really good, watching everything that happens in the city. Besides the actual crimes Steve follows everything suspicious that happens around, often being one step forward from the criminals which makes him a really good professional, highly respected from everyone.
Steve manages to catch many criminals but also he is able to see threat in his colleagues too. For a longer period of time Steve has been suspicious about his colleagues, thinking that they are making secret agreements with the criminals that operate around the city. He believes that few of his colleagues are protecting the interests of the criminals by faking evidences and hiding their crimes, which is also a very serious crime.
Tonight Steve is working on a night shift. He decides that he should explore more in details the offices that belong to his colleagues. He has an aim to discover if his colleagues are really working against the law and if they do, to put them behind the bars. This will be a very interesting mission, so we believe that you would be rather excited to work on it and take care of the criminals, no matter if they come from the streets or from the police office.