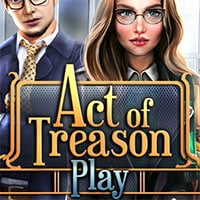 Act of Treason. Megan and Dustin are one of the best detectives in the state. They are real experts for finding things and catching criminals. Their longtime experience has made them real professionals and they often get rather serious cases that are rather hard to be solved, but they solve them without any problem.
Owning to all those facts, it is not just a coincidence that Megan and Dustin got one of the hardest cases in the closer history. Namely, a super-battery has been stolen. This super-battery was developed for a long time in a secret laboratory, worked under very controlled circumstances. This invention is intended for people, who live in places where there is no electrical energy. But someone likes to make profit from this and that's why he has stolen the battery. Selling this invention on the black market will bring a lot of money for the person that will do that. But also a very important invention will be destroyed, its main purpose will be lost forever.
Since we are talking about that important thing. Maybe Megan and Dustin will need some help to finish the things as soon as possible. Just follow the investigation and help them collect all the necessary evidences that will help solve the case and catch the person responsible for this situation. The group of scientists waits impatiently and they truly hope that they will get their super-battery back.