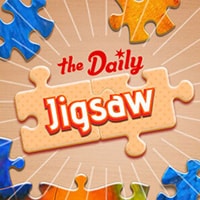 Play our free The Daily Jigsaw online and never lose a piece! Come back each and every day for a free new puzzle. Soon to be your favorite online game, our players tell us they play daily jigsaw to stay sharp, for brain training purposes, and for a fun and unique daily challenge. Why do you play Daily Jigsaw? Let us know! Start by choosing which Jigsaw you would like to put together. Select your level of difficulty: easy, normal, or expert.
Start! Don't forget, it's a race against the clock! Click and drag the jigsaw pieces to put them together. Correct placements will stay connected. Use the toolbar at the top to check your time, zoom, cycle piece arrangements, preview the image, or pause the game. Use the tray on the bottom of the screen to store pieces. Solve the puzzle as fast as possible for a better score. Come back every day for new jigsaw challenge! The Daily Jigsaw Game is exactly suitable for the jigsaw game lovers who want to play a game in their time. You can play it on all devices. So enjoy and have fun.
Also make sure to check Word Search: Relaxing Puzzles Game, you may enjoy playing it.