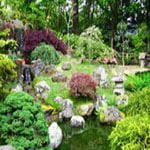 Alphabet Garden Game. Many people don't like autumn but we are sure that the following game could change their opinion. Here are involved three amazing pictures of gardens, taken in autumn, and every person will get charmed watching the incredible sights, those wonderful shapes and colors supplemented by the rain that falls so calmly and quietly its a real autumn idyll. No, this is not one of those simple hidden object games that you may solve right away.
For this one you will definitely need to have sharp observational skills since those letters are hidden so good – it seems like they totally melt in the surroundings. This part is the challenging one but the instructions and the controls for playing the game are as easy as they can be. All you need for playing it is the mouse or more precisely, the left mouse button. When you spot a letter in the scene just point it with the mouse cursor and click with the left mouse button. At that moment the letter will disappear from the scene but also it will become gray on the given list.
For using the hints you will also use the mouse, again you click on the hint sign – the hourglass – and you will get the wanted help. This option can be used twice in each level but from one hint to another hint you should wait the hourglass to fill again and then go for the second hint.
Alphabet Garden Game is a free online game on Hidden4Fun.